WHERE
Barboursville Park - Barboursville, WV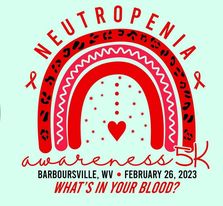 Course
Start at the lake > out the soccer field road > over the bridge > .5 mile to the right > turn around > return to the lake to finish.
Course Map
Entry Fees
1pm On-Site Registration
$25.00 if pre-registered before February 26th
$30 on Race Day
Race Shirts guaranteed to all registered
Age Groups
9 and under 10-14 15-19 20-24 25-29 30-34 35-39 40-44 45-49 50-54 55-59 60-64 65-69 70-74 75-79 80+
Awards
Trophies to first three overall male and female finishers.
Awards to first three finishers in each male and female age group.
No duplication of awards
Charity Information
All proceeds go to the National Neutropenia Network!
More Information
6 Year old Hannah has a very rare disease, Neutropenia. It occurs when you have too few neutrophils, a type of white blood cells. While all white blood cells help your body fight infections, neutrophils are important for fighting certain infections, especially those caused by bacteria. Not having enough neutrophils makes it harder for your body to fight germs and prevent infections. In severe cases, even bacteria that a healthy body typically tolerates (like the bacteria in your mouth and intestines) can make you sick.
Contact The Race Director
To prevent spam, we kindly ask that you do not use the form below for solicitation of any kind.