#Walk to End Alzheimer's, Southern Ohio
WHERE
Shawnee State University - Portsmouth, OH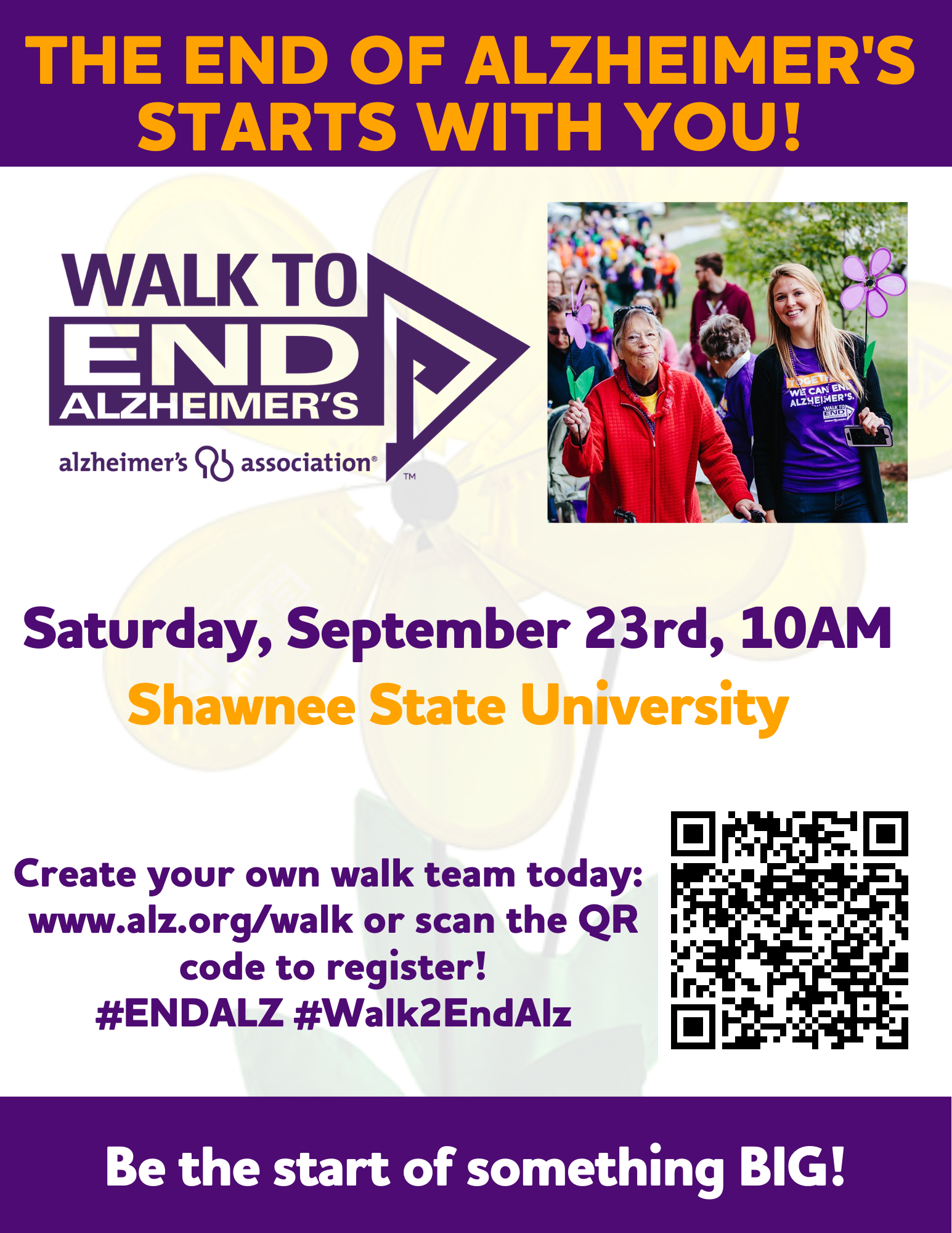 Course
Entry Fees
Age Groups
Do I need to register my children for Walk?
Yes, children should register. Parents/guardians can register children online or complete an offline registration form and sign the waiver on behalf of the child.
Awards
Charity Information
Where do the funds go?
All funds raised through Walk to End Alzheimer's further the care, support and research efforts of the Alzheimer's Association. The Alzheimer's Association is a nonprofit 501(c)3 organization. All donations are tax-deductible as allowed by law.
The end of Alzheimer's starts with you! Walk as an individual or create your own Walk team! www.alz.org/walk
#EndAlz #Walk2EndAlz
Join us Saturday, September 23rd at Shawnee Campus!
More Information
Do I have to register in order to Walk?
Yes, we want to know you're walking with us and need every participant to sign a standard waiver through their official registration. There is no registration fee for Walk. However, we ask every participant to make a personal donation and commit to raising funds in the fight against Alzheimer's.
Does every participant get a T-shirt?
Every registered participant who achieves the fundraising minimum of $100 will receive an official Walk to End Alzheimer's T-shirt via USPS. To receive a shirt in time for Walk day, participants must raise the T-shirt minimum at least four weeks prior to the event.
How do I get my offline donations to show up on my personal fundraising web page?
Donations can be made offline by submitting a check or money order by mail or hand-delivering to the local Alzheimer's Association office. Be sure to include your offline donation form, which can be found in your Participant Center or on your fundraising web page, to make sure you receive credit for the donation. Donations typically take one to two weeks to show up on your web page. Don't want to wait? You can also deposit checks directly to your Walk page from the Walk to End Alzheimer's mobile app for iPhone or Android.
Contact The Race Director
To prevent spam, we kindly ask that you do not use the form below for solicitation of any kind.