2nd Annual Juneteenth "Race for Equality" 5K Run/Walk
WHERE
Race will begin in Ritter Park on the center road near the Playground/Zipline - Huntington, WV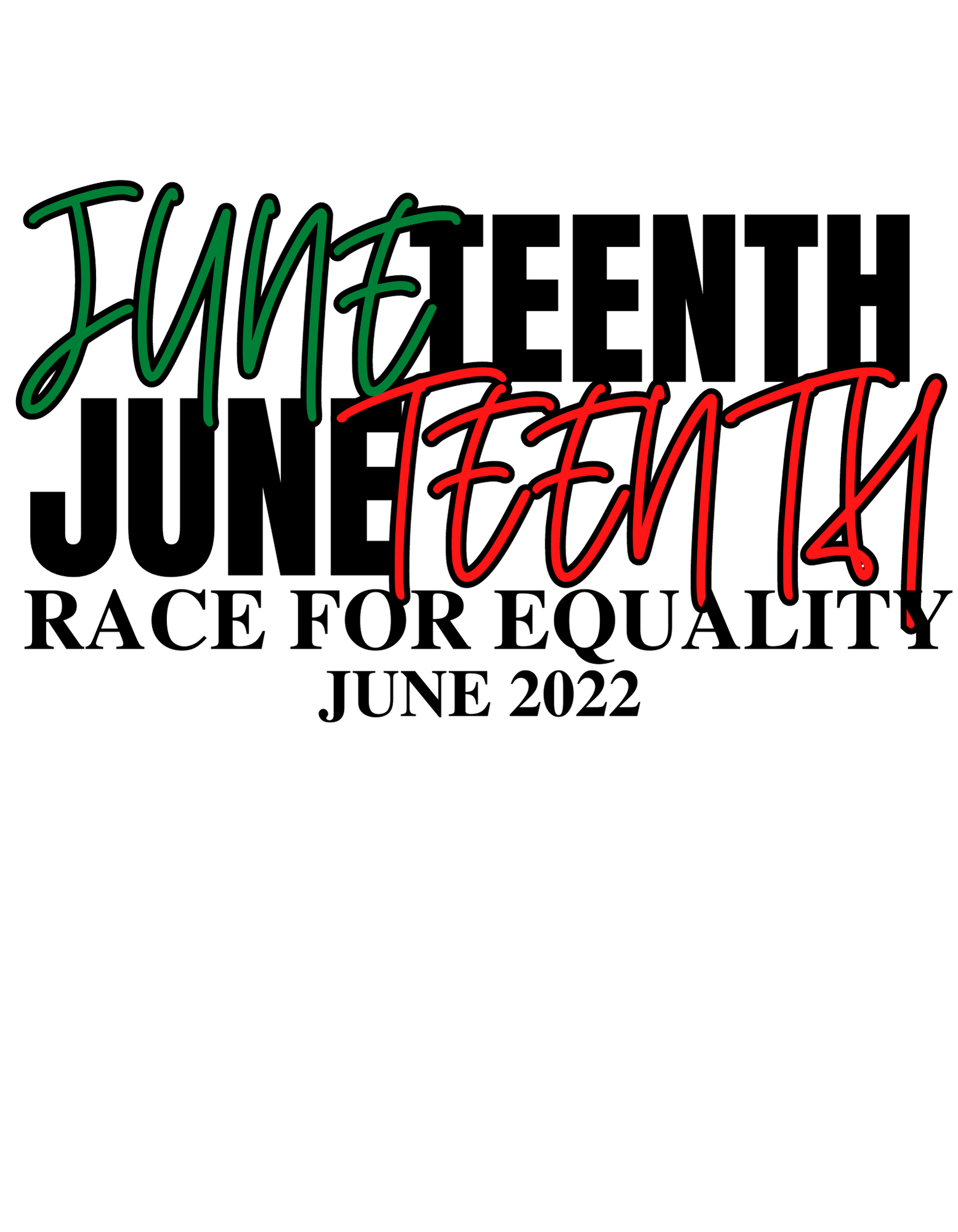 Course
The Race will begin on the center road at Ritter Park near the Playground/Zipline area > head west down that middle road > Turn Right (North) onto 8th St (use the track running path) > Turn Right (East) onto 13th Ave and head towards 12th Street > Turn Left (North) crossing 13th Ave and head North on 12th Street towards Huntington Avenue > Turn Right (East) onto Huntington Ave > Continue (East) on Huntington Ave > Turn Left (North) 14th St > Continue (North) on 14th St (there will be a water station in front Fairfield Landing - HYDRATE) > Turn Left (West) onto Charleston Ave and head towards 12th St (staying on left side of the street) > Turn Left onto (South) 12th Street and head towards 13th Ave > Continue North crossing 13th Ave and returning to Park Track heading (South) towards Enslow Blvd > Turn Right (West) onto backside of Park Track > Continue (West) on track course to 8th St and crossing 8th St onto North Blvd (transfer to street) > Continue (West) onto North Blvd towards 5th Street > Turn around at 5K loop (5th Street) > head (East) on North Blvd > Continue (East) Crossing 8th Street > Continue (East) Enter Center Road of Park and return to the starting line for FINISH
Course Map
Entry Fees
$25 Early Bird Registration until Tuesday, June 14th, 2022 - T-Shirt Guaranteed
($25 up to XL, additional $2 for 2XL, $3 for 3XL))
$30 Late Registration Fee June 15, 2022 through the day of the race, NO T-Shirt Guaranteed
6 & under, 7-10, 11-14, 15-18, 19-23, 24-28, 29-34, 35-40, 41-45, 46-50, 51-55, 56-60, 61-65, 66-70, 71 & up
Awards
***AWARDS FOR TOP TWO OVER ALL FINISHERS (MALE & FEMALE)****
***AWARDS FOR TOP TWO FINISHERS IN EACH AGE GROUP (MALE & FEMALE)****:
6 & under, 7-10, 11-14, 15-18, 19-23, 24-28, 29-34, 35-40, 41-45, 46-50, 51-55, 56-60, 61-65, 66-70, 71 & up
1st and 2nd Place Stroller
1st and 2nd Place Bicycle (if riding a bycicle during the race, you must start after all of the runners have cleared the starting line, and be sure not to impede any of the runners competing in the race)
THE FIRST 100 RUNNERS TO SIGN UP WILL GET A FREE SWAG BAG WITH LOTS OF GOODIES IN IT!!!!!!!
Charity Information
Fairfield Community Development Corporation ("FCDC") is a 501(c)(3) that was created after the City of Huntington received the America's Best Community Award and is funded by Foundation of the Tri-State. The Fairfield CDC consist of stakeholders from the Fairfield neighborhood, Marshall University, Cabell Huntington Hospital, the City of Huntington, the Huntington Housing Authority. FCDC's vision is to enhance the physical, economic and social aspects of life for all residents of the Fairfield community that live, work, worship, and play there. This vision includes restoring the creation and maintenance of affordable housing and commercial real estate, education of residents, promotion of healthy lifestyles and increasing the economic wealth of residents regardless of their economic status, ethnicity, race, gender, age, and/or sexual orientation.
TheFairfield CDC the focus on five key areas of improvement for the Fairfield Area:
Health & Wellness
Education
Housing
Jobs & Economic Development
Safety
We look forward to hosting the 2nd Annual Juneteenth "Race for Equality" 5K Walk/Run in commemoration of the JUNETEENTH FESTIVAL and CELEBRATION OF FREEDOM here in Huntington, WV.
More Information
(Sponsors will be continuously updated) Sponsors:
Fairfield Community Development Corporation
City of Huntington
Coca-Cola
Intercultural Affairs – Marshall University
Mountain Health Network
Backyard Pizza
Pastor Martha Johnson
The Peddler
Marshall Health
United Way of the River Cities
Huntington Bank
Patrick Rayl - Realtor
BRAVO Live DJ
Lexi's Busy Bees
Fairfield Landing
Glorious Church of God in Christ
Spire Development Inc.
KNNeka Enterprises
BOOTS - Spirits & Feed
Marshall University School of Pharmacy
Pastor Martha Johnson
Bob & Linda Hansen
Gayle & Daniel Brazeau
J.L. and Rosie Brydie
Sandra Clements
Campbell Woods, PLLC
Nelson Mullins Riley & Scarborough LLP
Marshall School of Pharmacy
Bailes Craig Yon & Sellards, PLLC
Job Hub 180
Medical Practice Billing Solutions
Sponsors

Contact The Race Director
To prevent spam, we kindly ask that you do not use the form below for solicitation of any kind.